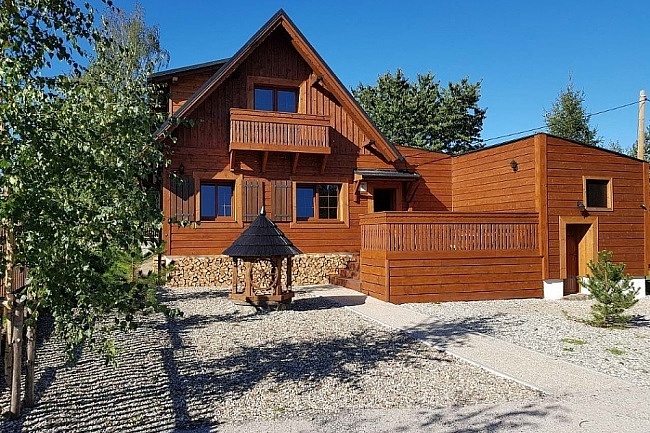 My selection
display 44 photos
"Radhošský rybník - Chata 1 - ubytování Trojanovice."
Hut capacity: 8 persons
4 bedrooms: 3x 2, 1x 0+2
Bathroom: 1
Toilet: 2
Internet: YES
Pet: YES - allowed
The owner of the building (reception): NO
The landlord speaks: czech, slovak
Accommodation in Beskydy Mountains
Radhošský rybník - Chata 1 - Trojanovice. Chata je k pronájmu pro 6 osob ve 3 oddělených ložnicích + 2 osoby na přistýlce v obývacím pokoji na rozkládací pohovce. Vybavená kuchyňka je součástí objektu. Potraviny a restaurace jsou nedaleko, cca 15 min. chůzí (hotel Beskyd, restaurace Balita, hotel Troyer, hotel Rekovice, restaurace U Janíka, restaurace Maralák). Chata má koupelnu se sprchovým koutem a 2x WC. Vytápění je elektrické. Parkovat lze přímo u objektu v oploceném areálu. Příjezd do areálu po veřejné komunikaci. Chata je plně vybavená vč. kuchyně, sociálního zařízení, TV, Wi - FI, kachlová kamna, venkovní krb s posezením apod. Radhošský rybník se nachází v samotném centru Moravskoslezských Beskyd v malebné obci Trojanovice, přímo pod úpatí hory Radhoš. Není určen pouze rybářům, ale svou polohou je předurčen k prožití jak letní tak i zimní dovolené. K rekreaci je Vám k dispozici útulná chata s terasou a s výhledem na rybník, horu Radhoš a okolí. V zimě nabízíme možnosti lyžování v lyžařském středisku Pustevny vzdáleném cca 1km, množství běžkařských tratí, bruslení na rybníku atd. V letním období se nabízí nepřeberné množství aktivit - cyklostezky v okolí, aquapark ve Frenštátě p. R., lanový park Tarzanie - Trojanovice, pěší turistika a pořádání množství zajímavých výletů do okolí.