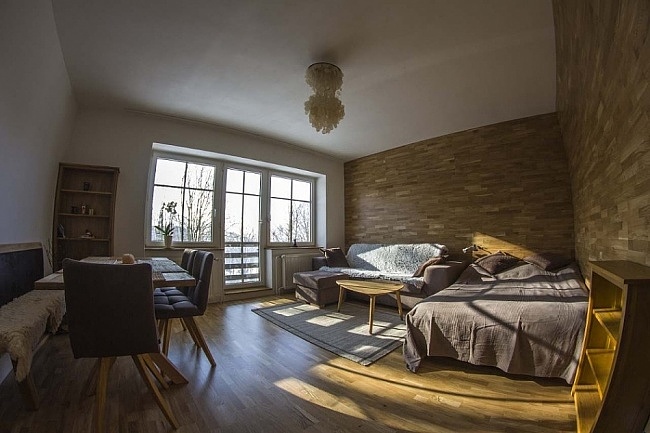 My selection
display 13 photos
"Apartmán Špindlerův Mlýn - Bedřichov - ubytování Krkonoše."
Apartment capacity: 6 persons
2 bedrooms: 1x 4, 1x 2
Bathroom: 1
Toilet: 1
Internet: YES
Pet: NO - not allowed
The owner of the building (reception): NO
The landlord speaks: czech, slovak
Apartmán Špindlerův Mlýn - Bedřichov - ubytování Krkonoše. Špindlerův Mlýn je nejznámější lyžařské a rekreační středisko v České republice nabízející 27 km sjezdovek a krásnou horskou přírodu. Nabízíme k pronájmu stylově zrekonstruovaný apartmán, který se nachází v přízemí cihlového domu, v klidné slepé ulici s výhledem do přírody. Apartmán má dva pokoje: velký obývací pokoj je s jídelním stolem, velkou pohovkou (rozkládací na 160 cm širokou postel) a manželskou postelí šíře 140 cm. Zcela oddělená je malá ložnice s manželskou postelí šíře 180 cm. Pokoje jsou neprůchozí. V kuchyni je lednička, myčka, varná deska, trouba, rychlovarná konvice, TV a Wi-Fi. Podlahy a některé stěny jsou z dubového dřeva. Plně vybavená kuchyň je umístěna ve vstupní hale, celková plocha apartmánu je 48 m2. K dispozici koupelna s WC a menší vanou. Vytápění zajišuje vlastní plynový kotel. K dispozici je také vlastní malá uzamykatelná lyžárna, vhodná i pro kola. Parkování u domu je zdarma. V okolí je začátek různých turistických tras a cyklotras. Za 10 - 15 min se dostanete chůzí do centra Špindlerova Mlýna. Bohaté sportovní vyžití, ale i odpočinek v klidu a v přírodě. Lyžování - 550m od domu dětský vlek Harmony, kterým se již lze vyvézt na sjezdovku Medvědín. 300m od domu zastávka skibusu. V létě pěší turistika a cykloturistika. 20 - 30 min chůze je vzdálena sedačková lanovka Medvědín i Svatý Petr, autobusem vyjedete na vrcholky Krkonoš na Špindlerovu boudu na hřebenové pěší turistické trasy. V centru města jsou půjčovny kol a koloběžek. Bazén - jen 350m je vzdálen veřejně přístupný krytý bazén 25m a wellness. V centru aquapark, lanové centrum, letní bobová dráha a další podobné atrakce.