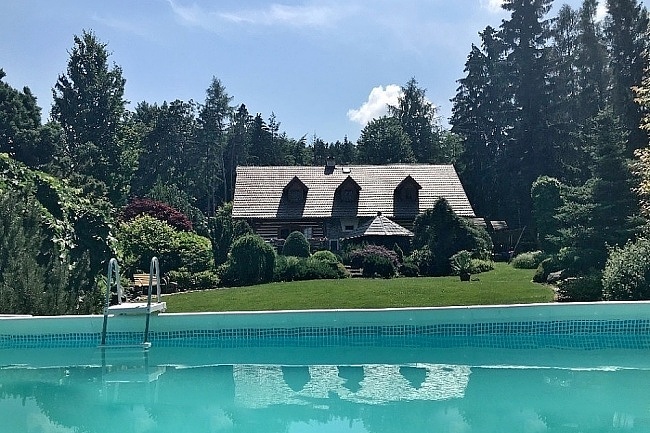 My selection
display 37 photos
"Cottage Falknov with pool - Kytlice - accommodation Bohemian Switzerland."
Cottage capacity: 10 persons
4 bedrooms: 1x 4, 2x 2, 1x 0+2
Bathroom: 2
Toilet: 2
Internet: YES
Pet: Only after agreement
The owner of the building (reception): NO
The landlord speaks: czech, slovak, english
Cottage Falknov with pool - Kytlice - accommodation Bohemian Switzerland. Our cottage is located on the border of the national park Bohemian Switzerland, 25 km from the excursion place Hřensko and 35 km away is Macha Lake. You will find absolute privacy and relaxation here. You will be surrounded only by nature and animals, the building is on the edge of the forest in the village Kytlice. The nearest houses are located 250m from you. You will have a large garden, large swimming pool 10m x 5m with salt water, gazebo with barbecue, outdoor terrace with garden furniture. Equipped kitchen, towels, bed linen, TV, WIFI and parking are a matter of course with us. The cottage has 2 double bedrooms, 1 quadruple bedroom and 2 extra beds in the living room. In the village Kytlice there are several restaurants and pubs, a mini-market, a forest theater, a forest lake and also a clay tennis court. Come to us to spend an amazing holiday with your family and friends. Kytlice is located in the Lusatian Mountains in Bohemian Switzerland. Beautiful picturesque village with original historic half-timbered houses. The village is famous for many famous Czech personalities. Actor Miroslav Horníček, Vlastimil Brodský, Zdeněk Řehoř, but also Táňa Fischerová had their cottage here. Today you can meet, for example, Singer Petra Černocká or Václav Bláha, a member of the band Divokej Bill. This small village is situated on the slopes of a picturesque valley through which the river Kamenice flows and which is surrounded by beautiful forests and sandstone rocks. There are many interesting tourist attractions in the area.