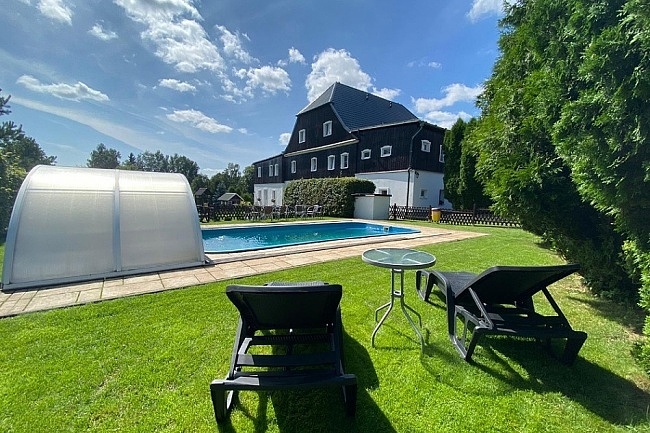 My selection
display 49 photos
"Cottage Hubertus - Doubice - heart of the Czech Switzerland region."
Cottage capacity: 50 persons
15 bedrooms: 4x 4+1, 4x 3+1, 7x 2
Bathroom: 15
Toilet: 17
Internet: YES
Pet: YES - allowed
The owner of the building (reception): YES
The landlord speaks: czech, slovak, german, polish
Cottage Hubertus - pension Doubice - Czech Switzerland. Our property is located in the picturesque village of Doubice in northern Bohemia. Doubice lies at the foot of Šluknovský výběžek and at the same time on the border of the Lužické hory PLA and the Labské pískovce PLA. We offer 15 rooms with private bathrooms. facilities, lounge, restaurant - dining room, private large garden - gazebo, barbecue, swimming pool, table tennis, billiards and outdoor pool. The object can be rented to 1 group of clients in private or individual rooms separately. Available 15 rooms: 7x double room, 4x 3 - bedded room and 4x 4 - bedded room, rooms are with extra bed. Heating is provided by the central office. Parking is available directly at the property. There is a common room where you can organize training, entertainment events, etc. Pleasant restaurant, which is part of the building, offers excellent game and old Czech specialties in the form of pensions and half board. There is a possibility of full board, half board, breakfast but also cooking in a small common kitchen. In the vicinity of Doubice it is possible to do many walking, cycling and in winter even cross-country trips to the surrounding area. The location of the guesthouse is ideal for cycling, cross-country skiing, hiking trails, mushroom picking - the Lusatian Mountains and the Czech Switzerland offers trips - Pravcicka brana, Jetrichovice lookout, in winter icefalls in Kyjov valley. Tennis courts are close to the property, a quiet part of the village, ideal for families with children. Ski Resort is available in Horní Podluží - 7 km.