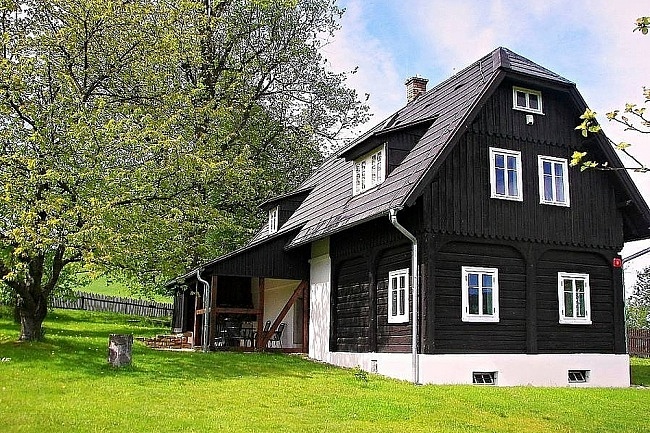 My selection
display 30 photos
"Stylová roubenka Lipnice - Pravčická brána - Soutěsky ve Hřensku."
Cottage capacity: 8 persons
2 bedrooms: 1x 5, 1x 2+1
Bathroom: 1
Toilet: 1
Internet: YES
Pet: YES - allowed
The owner of the building (reception): NO
The landlord speaks: czech, slovak, english, german
Accommodation in Czech Switzerland and Lusatian Mountains
Nabízíme Vám pronájem stylové roubenky Lipnice na klidném místě s výhledem na stejnojmennou obec Lipnici v NP České Švýcarsko. Chalupa prošla rozsáhlou rekonstrukcí a je zasazena do udržované zahrady s hezkým výhledem do okolí. Chalupa k pronájmu poskytuje ubytování pro 1 až 8 osob ve 2 ložnicích. K dispozici budete mít obývací pokoj, plně vybavenou kuchyň, koupelnu se sprchovým koutem a WC a dvě pohodlné ložnice. V letních měsících oceníte venkovní terasu s posezením, grilem a ohništěm s výhledem do zahrady a okolí Českého Švýcarska. Vnější vybavení objektu: zahrada, venkovní terasa s grilem, parkování u objektu. Vnitřní vybavení objektu: obývací pokoj, WiFi internet, plně vybavená kuchyně, koupelna (sprcha, WC), dvě ložnice, úschovna kol a lyží. Vybavení pro děti: dětská postýlka, dětská židlička, trampolína (400m od objektu). Celý objekt je nekuřácký. Svoje vozidlo zaparkujete přímo u objektu. Vítáni jsou také vaši domácí mazlíčci. Z Lipnice se můžete vydat pěšky nebo na kolech do nedalekého Pavlinina údolí, Dolského mlýna nebo Jetřichovských skal. Roubenka je ideální pro rodiny s dětmi. Roubenka je nekuřácká. V okolí roubenky můžete zahlédnout stáda pasoucích se jelenů. Cyklotrasy a turistické stezky začínají kousek od objektu. Roubenka leží přímo v centru národního Parku. Nejbližší zajímavosti: Pavlinino údolí, Dolský mlýn, Jetřichovické vyhlídky (Mariina vyhlídka), Pravčická brána, Soutěsky ve Hřensku a mnohem více...