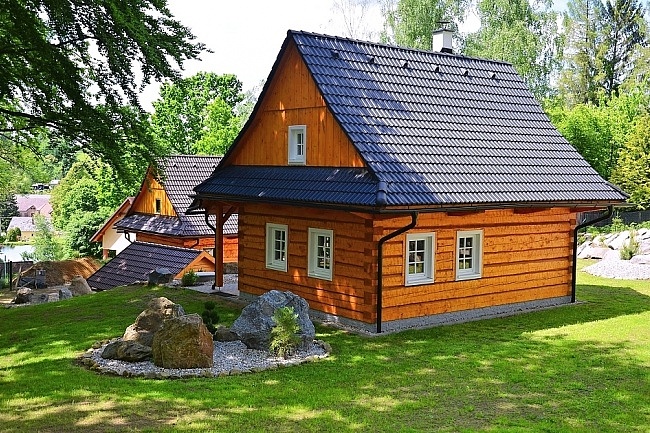 My selection
display 26 photos
"Roubenka U veverky - vesnička Lomy - Kunžak - Česká Kanada."
Timber capacity: 6 persons
1 bedroom: 1x 6
Bathroom: 1
Toilet: 1
Internet: YES
Pet: NO - not allowed
The owner of the building (reception): NO
The landlord speaks: czech, slovak
Accommodation in South Bohemia
Roubenka U veverky je obklopená malým lesíkem, nachází se v nádherné, turisty obdivované vesničce Lomy, plné zeleně a rybníků u obce Kunžak v oblasti České Kanady. Novostavba srubové chaty poskytuje ubytování pro 2 až 6 osob v 1 ložnici. V přízemí je obývací pokoj s kuchyňským koutem, koupelna. Kuchyň - kuchyňská linka plně vybavená nádobím, lednice s mrazákem, mikrovlnka, rychlovarná konvice, elektrický sporák, toustovač, topinkovač, elektrický šlehač, kuchyňská váha, přenosný elektrický gril. Dětská jídelní židlička k zapůjčení zdarma + Dětská cestovní postýlka také k zapůjčení zdarma (včetně lůžkovin a povlečení). Obývací pokoj - kachlová kamna, rozkládací sedací souprava, dva konferenční stolky, jídelní stůl se šesti židlemi, papasan křeslo, LG Smart TV (internet, YouTube, Skylink), přenosný reproduktor Lamax, Wi - Fi, stolní společenské hry, badminton. Z obývacího pokoje do podkrovní ložnice vede velké pohodlné schodiště, kde je 6 samostatných postelí. Koupelna je vybavena sprchovým boxem s vysokou vaničkou, WC s bidetovou sprškou. Velké zrcadlo a umyvadlo se skříňkou. Dále kosmetické zvětšovací zrcátko, fén na vlasy. Roubenka je vytápěna kachlovými kamny nebo klimatizací, která poslouží v horkých letních měsících i na ochlazení místností. Parkování přímo u objektu na oploceném pozemku. Zahrada - ohniště obklopené obrovskými kameny, dřevěné lavice, 4x plastové židle, mohutný dřevěný, zcela netradiční stůl se šesti židlemi, dětské pískoviště, houpačka pro malé i velké, venkovní odpočinkové lehátko, 4x polohovací lehátko, houpací sí, terasa se zahradním nábytkem, elektricky gril, gril na otevřeném ohni, litinový kotlík, 6x opékací vidlice, venkovní osvětlení. Možnost úschovy kol. Koupání nebo rybaření je možné v nedalekém rybníku (cca 200 m). 200m od roubenky se nachází vlakové nádraží pro úzkorozchodnou železnici - poslední v Čechách. Nemůžete tedy vynechat projížďku parní lokomotivou po půvabném kraji České Kanady. Možnost jízdy na koních pro děti i dospělé, pro začátečníky i pokročilé i ty nejmenší na ponících v nedaleké jízdárně (300m). V okolí pěší výlety do okolí i cykloturistika, rozhledna u Jakuba, Markův kámen, hrad Landštejn, bizonní farma s restaurací v Rožnově. Těšíme se na Vás u nás.