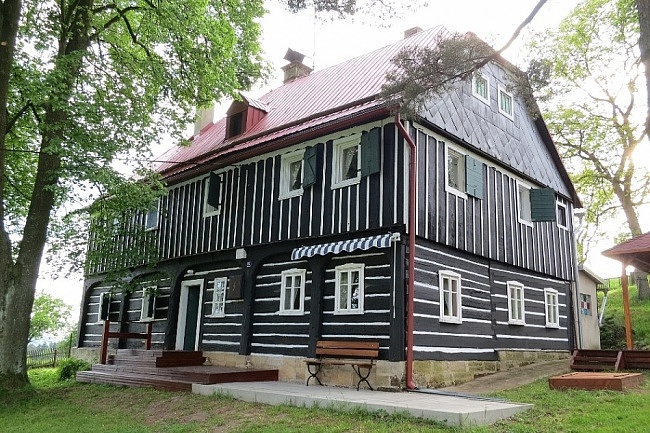 My selection
display 41 photos
"Pronájem chalupy Rynartice - Jetřichovice - ubytování České Švýcarsko."
Cottage capacity: 9 persons
3 bedrooms: 1x 4, 1x 3, 1x 2
Bathroom: 2
Toilet: 2
Internet: YES
Pet: YES - allowed
The owner of the building (reception): NO
The landlord speaks: czech, slovak, english, german
Chalupa Rynartice - ubytování České Švýcarsko. Nabízíme Vám ubytování ve stylové chalupě na jednom z nejkrásnějších míst NP České Švýcarsko. Chalupa se nachází v obci Rynartice na Křížovém vrchu, odkud je panoramatický výhled na celý národní park. Naše chalupa poskytuje ubytování pro až 9 osob ve 3 ložnicích. Přízemí: 1 velký pokoj se čtyřmi jednolůžky, oddělená jídelna a kuchyně. 1.patro: ložnice č. 1 (1 x dvoulůžko) a ložnice č. 2 (1 x jednolůžko + 1 x dvoulůžko). Sociální zařízení zahrnuje 2x samostatné WC a koupelnu se sprchovým koutem. Vytápění zajišují krbová kamna na tuhá paliva a elektrické přímotopy. O teplou vodu se stará 120 litrový bojler. V objektu je k dispozici pro vlastní vaření plně vybavená kuchyně: myčka, lednice s mrazákem, mikrovlnná trouba, rychlovarná konvice, sporák na dřevo, elektrický vařič, venkovní nábytek, černá kuchyně, krb a gril. Vedle posezení na zápraží nabízí chalupa i rozlehlou terasu s venkovním krbem. Parkování je možné přímo u objektu, autobusová zastávka je 300 metrů od chalupy. Oblast spadá do CHKO Labské pískovce a Národního parku České Švýcarsko. Celé okolí je protkáno množstvím turistických i cyklistických cest kopcovitého rázu. Národní park České Švýcarsko láká na toulky po okolí. V okolí turistické i cyklistické stezky, koupání (Kyjovská přehrada, Vodní nádrž Chřibská), poznávání zdejších památek (Hrad Falkenštejn, zřícenina Dolského mlýna) a mnoho jiných zajímavostí (Ferrata Kavárnička, Chřibský vodopád, Jeskyně víl, Adrenalin park Jedlová, Indiánská vesnička Rosehill atd.). Na své si přijdou i fanoušci zimních sportů (Lyžařský areál Horní Podluží, Ski areál Jedlová, Ski Polevsko, Vlek Rumburk). Poloha chalupy zajišuje maximální soukromí, překrásný výhled přímo z chalupy, ideální východisko řady pěších a cyklistických výletů i blízkost restauračních zařízení a koupání.