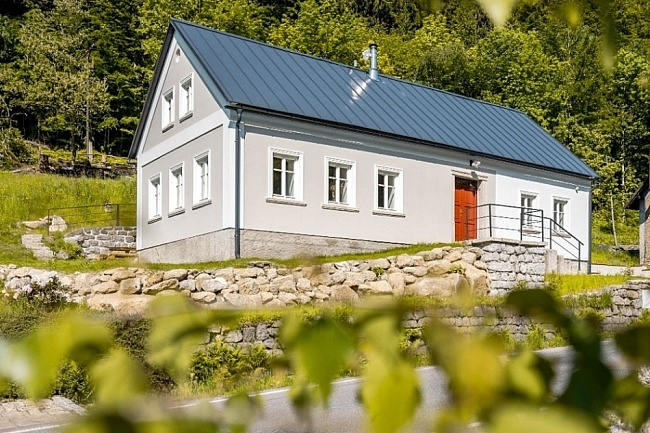 My selection
display 32 photos
"Chalupa Sklářská - Vaše chalupa v srdci Jizerek"
Cottage capacity: 14 persons
4 bedrooms: 3x 4, 1x 2
Bathroom: 2
Toilet: 3
Internet: YES
Pet: NO - not allowed
The owner of the building (reception): NO
The landlord speaks: czech, slovak, english, german,
Accommodation in Jizera Mountains
Chalupa Sklářská se nachází v samém srdci Jizerských hor necelých 5 km pod vyhledávanou Protrženou přehradou v obci Desná. Chalupa je po kompletní rekonstrukci s důrazem na zachování původních prvků. Chalupu nově doplňuje i prosklená wellness zóna s finskou saunou a odpočívárnou. Dominantou chalupy je funkční kachlový sporák s troubou, původní dřevěné stropy a renovovaný dřevěný nábytek. Chalupa o dvou podlažích pohodlně pojme 11 osob (po domluvě lze kapacitu navýšit až na 14) ve 4 prostorných dvoj až čtyřlůžkových ložnicích a nabízí 3 WC, 2 koupelny, šatnu a vyhřívanou lyžárnu/kolárnu. V přízemí se nachází útulná sednice s pohovkou, kachlovým sporákem a kuchyní. Přízemí nabízí ložnici pro 3-4 osoby. V patře najdete 3 prostorné ložnice: 2 ložnice tří až čtyřlůžkové, 1 dvoujlůžkovou. Každá ložnice nabízí manželskou postel. Ložnice pro 3-4 osoby jsou vybaveny 120 cm širokou postelí, na které se komfortně vyspí i dvě děti, případně lze využít jako pohovku. V patře se dále nachází dětský koutek s deskovými hrami a hračkami a čítárna vybavená restaurovanými křesly od Jindřicha Halabaly. Přízemí i patro disponuje prostornou stylovou koupelnou s WC, v přízemí je navíc i samostatné třetí WC. Koupelny jsou obloženy krásnými retro obklady a nabízí velkorysé sprchové kouty. Samozřejmostí jsou fény na vlasy. Přízemí chalupy (sednice, pokoj, WC, koupelna a šatna) je vytápěno podlahovým topením pro Váš maximální komfort. V sednici se můžete ohřívat příjemným sálavým teplem z kachlového sporáku. V patře jsou instalovány stylové litinové radiátory s termohlavicemi. Patro i přízemí lze ovládat termostaty dle Vaší potřeby. V chalupě je k dispozici plně vybavená kuchyň včetně lednice s mrazákem, myčkou, horkovzdušnou troubou, elektrickou varnou deskou, rychlovarnou konvicí, mikrovlnkou, tyčovým mixérem a v nespolední řadě i kvalitním kávovarem na zrnkovou kávu. V chalupě nenajdete TV, nabízíme však kvalitní pokrytí rychlou Wi-Fi, zajímavé knížky, stolní hry, puzzle a krásnou přírodu hned za domem. Chalupa je vybavena hlásiči požáru a dýmu. Chalupa i lyžárna s kolárnou jsou chráněny zabezpečovacím zařízením napojeným na pult centrální ochrany. Parkoviště je monitorováno kamerovým systémem. Vedle chalupy je Vám k dispozici uzamykatelná vyhřívaná lyžárna a kolárna s dostatkem zásuvek pro nabíjení elektrokol či servis lyží. Chalupa je strategicky umístěna přímo na turistické trase vedoucí na Mariánské schody v Albrechticích, necelé 2 km od nástupního místa na běžky a necelé 4 km od oblíbeného zimního i letního střediska Tanvaldský Špičák. Za domem je k dispozici vlastní les, 50 m od domu najdete průzračnou říčku Bílá Desná. Zajímavostí jsou i 4 rozhledny v docházkové vzdálenosti od chalupy. Parkoviště přímo u chalupy pojme až 5 aut v létě i zimě a pro majitele elekromobilů nabízí nabíječku o výkonu 11 kW. Parkoviště je přístupné přímo ze silnice, která je celoročně udržovaná. V letních měsících můžete využít gril a pohodlné sezení na dvoře za domem. Ohniště pro milovníky opékání špekáčků se nachází na zahradě u lesa. V obci Desná je místní samoobsluha s regionálními potravinami (2 km), v 5 km vzdáleném Tanvaldě lze nakoupit v Lidlu, Bille a Penny. V okruhu 10 km je řada řemeslných pekáren a bio farem, které rádi osobně doporučíme. Nakoupené potraviny můžete, mimo jiné, skladovat v žulovém sklepě, kde si udrží tu správnou teplotu po celý Váš pobyt. Pro větší skupiny je navíc možnost pronájmu stylového mezonetového apartmánu pro 2 osoby. Apartmán s chalupou přímo sousedí a má vlastní oddělený vchod. Apartmán je plně vybaven a mimojiné nabízí masivní postel ze starých trámů či stylovou koupelnu s kamennými a měděnými prvky.