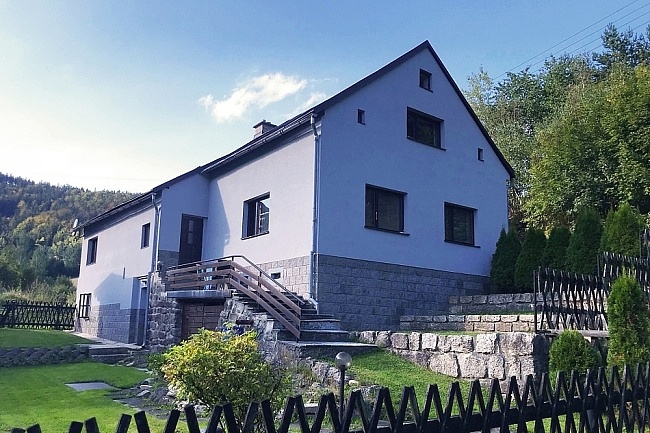 My selection
display 43 photos
"Chalupa Jizerské hory - vinný sklípek, bazén, dětské hřiště, altánek ."
Cottage capacity: 16 persons
4 bedrooms: 1x 6, 2x 4, 1x 2
Bathroom: 2
Toilet: 2
Internet: YES
Pet: YES - allowed
The owner of the building (reception): NO
The landlord speaks: czech, slovak
Accommodation in Jizera Mountains
Horská chalupa Kopperovka I se nachází v klidné, lesem obklopené části obce Žďár u Tanvaldu v Jizerských horách. Chalupa k pronajmutí poskytuje ubytování pro až 16 osob ve 4 ložnicích. V přízemí se nachází obývací pokoj s rozkládací sedací soupravou a jídelním koutem, elektrickým krbem, sedací soupravou, TV se sat. a netflixem. Kuchyň s jídelním stolem, dětský koutek. Dále zde najdete 2 koupelny jednu s vanou a jednu se sprchovým koutem s WC a terasu se vstupem na zahradu. První ložnice je s dvoulůžkem, druhý je 4 lůžkový pokoj (palanda a dvě samostatná lůžka), pokoje jsou odděleny dveřmi, ale každý má samostatný vchod. Pokoje tak lze využívat i zcela samostatně. V prvním patře se nachází 4 lůžkový pokoj (dvoulůžko a 2 samostatná lůžka) a jeden 6 lůžkový (dvoulůžko a 4 samostatná lůžka). V prvním patře se nachází kromě pokojů filmový koutek, stolní fotbálek, šipky a WC. Kuchyň je plně vybavena (lednička, sporák s troubou, mikrovlnná trouba, rychlovarná konvice, myčka, kávovar na mletou kávu, toustovač s výměnnými plotýnkami na přípravu vaflí a grilovaní masa, tyčový mixér i veškeré věci na pečení vč. formy na bábovku). Samozřejmostí je nádobí, hrnce, pánvičky a pod. K dispozici máte utěrky, houbičky na nádobí, jar i tablety do myčky. Dětský koutek je vybaven dětskou kuchyňkou a hračkami pro vaše nejmenší ratolesti: stolní hry, lego duplo, knihy, papíry a potřeby pro psaní a malování. Dále je možné zapůjčení dětské postýlky s matrací, polštářkem a peřinkou vč. povlečení, jídelní židlička, dětská vanička, nočník i dětské prkénko vše v ceně pronájmu. K dispozici máte i posezení ve vinném sklípku. Venku je zastřešené posezení v altánku s grilem . Vedle altánku najdete otevřené ohniště s posezením pro příznivce táboráku. V letní sezóně je k dispozici u altánku i venkovní nadzemní bazén o průměru 3 m.a dětský koutek ( zahradní domeček a pískoviště, které se nachazí v oplocené části zahrady u altánku ). K dispozici je i stolní tenis. Na podzim 2022 plánujeme výstavbu Finské sauny s koupáním v našem horském potůčku a nebo ochlazovací kádi. Dále dětské hřiště se nachází v zadní části zahrady, kde je také dětský domeček, pískoviště, houpací koník, trampolína, dětská prolézačka s houpačkami, klouzačkou, malou horolezeckou stěnou a pod. toto hřiště je společné pro obě naše chalupy Kopperovky. Pro příznivce střílení můžeme nabídnout i lukostřelbu.Nedaleko chalup se nachází veřejné koupaliště. V zimě lyžařská střediska Tanvaldský Špičák, ski areál Detoa a Jizerská magistrála. Doporučujeme navštívit: rozhledna Tanvaldský Špičák 2,9 km, vodopády na Bílé Desné 4,3 km, Happy world Harrachov bobová dráha a lanový park 14 km, rozhledna Štěpánka 7,6 km, Kořenov Pohádková cesta 6,5 km, Muzeum Cimrmanovy doby a rozhledna 6,5 km, Ozubnicová tra Tanvald 5 km a Bobová dráha Janov nad Nisou 17 km. Těšíme se na Vás u nás.